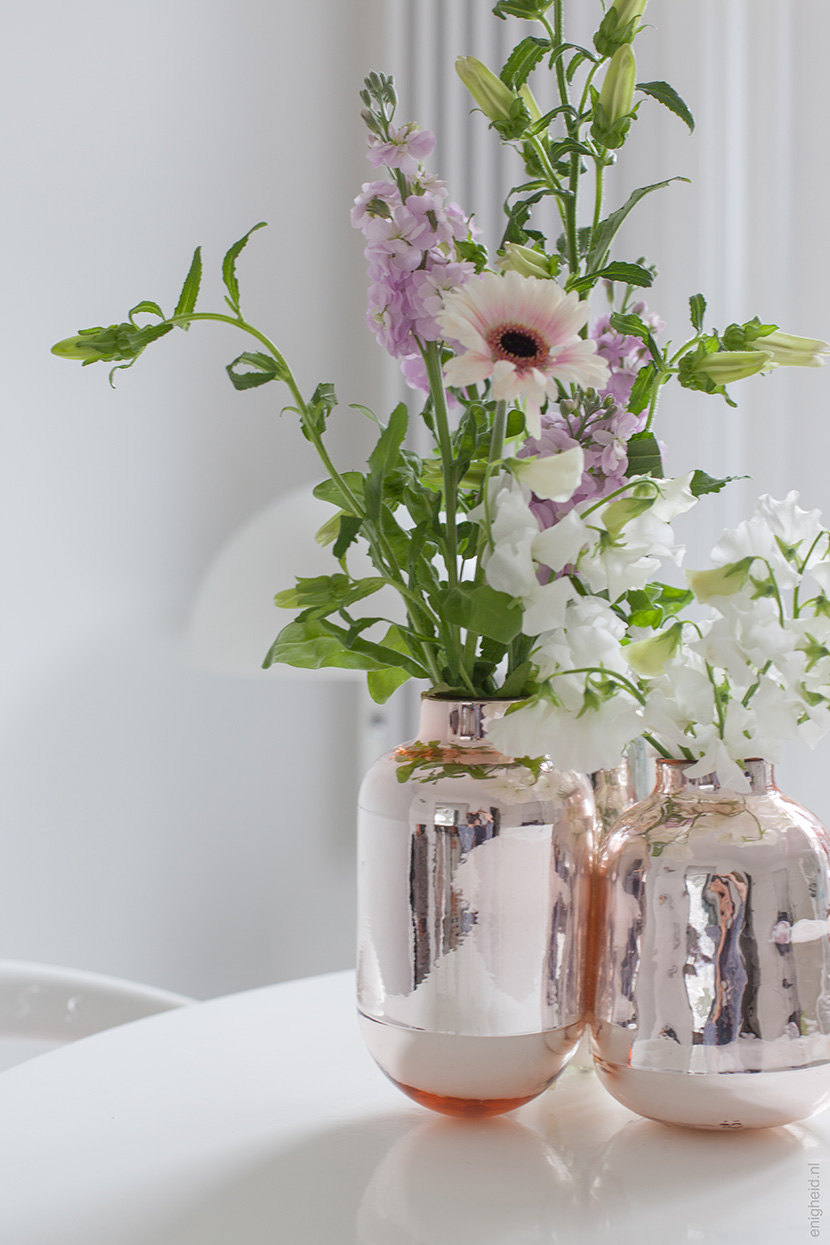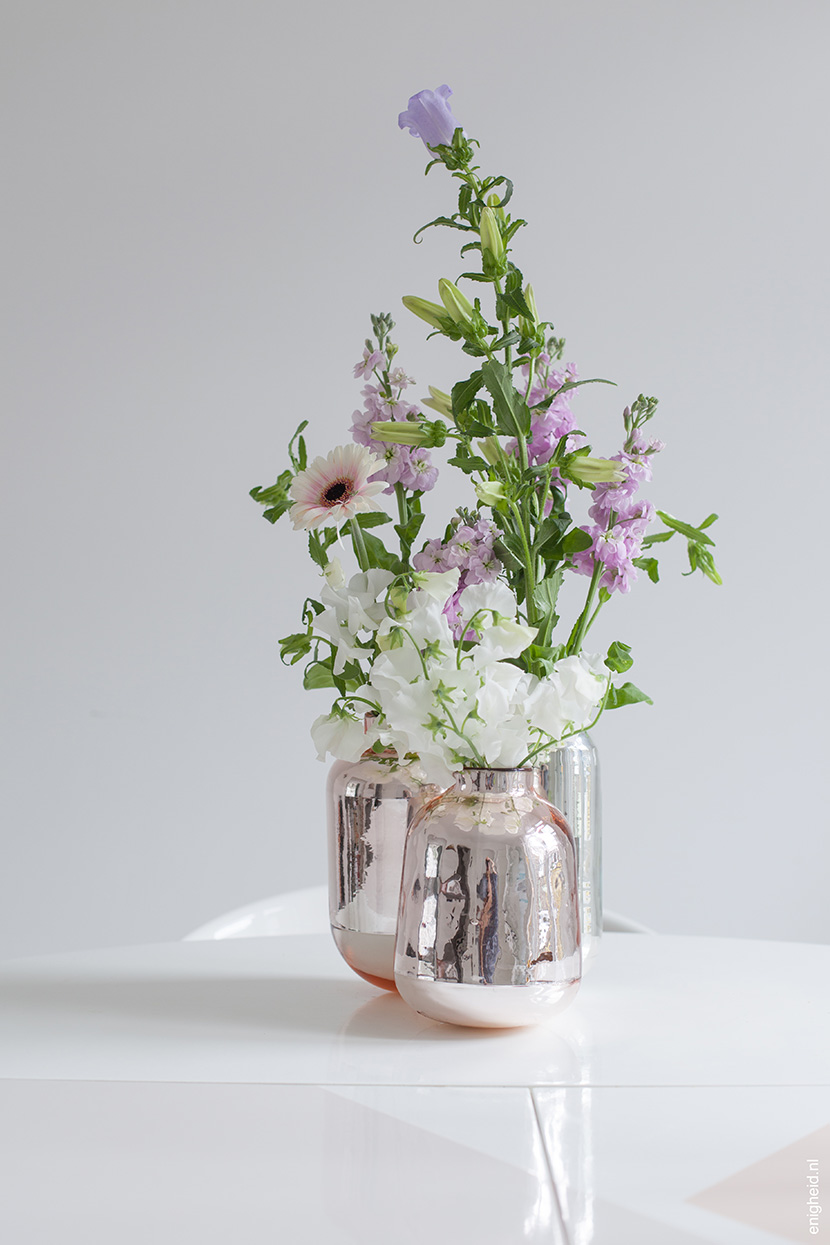 A few years ago I bought the fantastic Flask Vase by David Derksen (check out his site, he designed some amazing things). When I disassembled a broken thermos bottle a few months ago, I held the glass insides (a pink one!) and I just couldn't manage to throw it away. Thinking of a way to use it, I thought it would be stable to have a construction with three. I went on a few thrift-hunts and after a few weeks I had some flasks and made the vase. Surprisingly enough it was super easy and the end result looked like a million bucks. This is how you do it yourself:
1 Disassemble the thermos. Most of the time you can open them on the bottom, sometimes you need some force)
2 If there is a glass point on the bottom, break the little point with pincers. Sand the sharp points with a sanding paper, so that it won't scratch your table
3 Put some sealant in the bottom to prevent moisture to get in between the glass
4 Look at the composition and shape: I used flasks with straight edges so you have enough room to glue and I used three different heights because I think that is easier to arrange flowers
5 Use some painters tape to get a stable construction, make sure this is tight
6 Glue the three of them together with strong and transparant glue-sealant. Keep in mind that the bottom needs to be flat, but the flasks need to stay straight too (nothing worse than a crooked vase!)
7 Let it dry for a few days, then remove the tape and get yourself some nice flowers. The flasks are watertight, but keep in mind cleaning them can be a bit challenging
That is all there is to it. If you ever try out this DIY, please let me know! I am really curious to see it in other homes.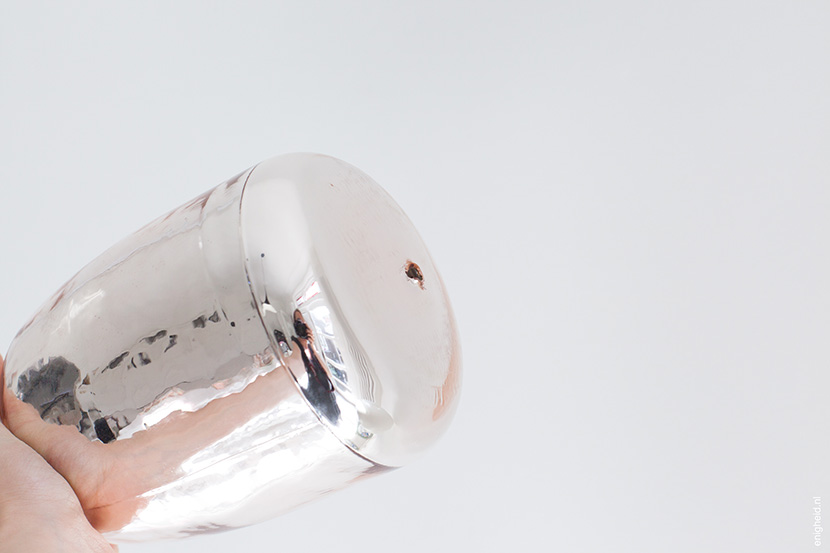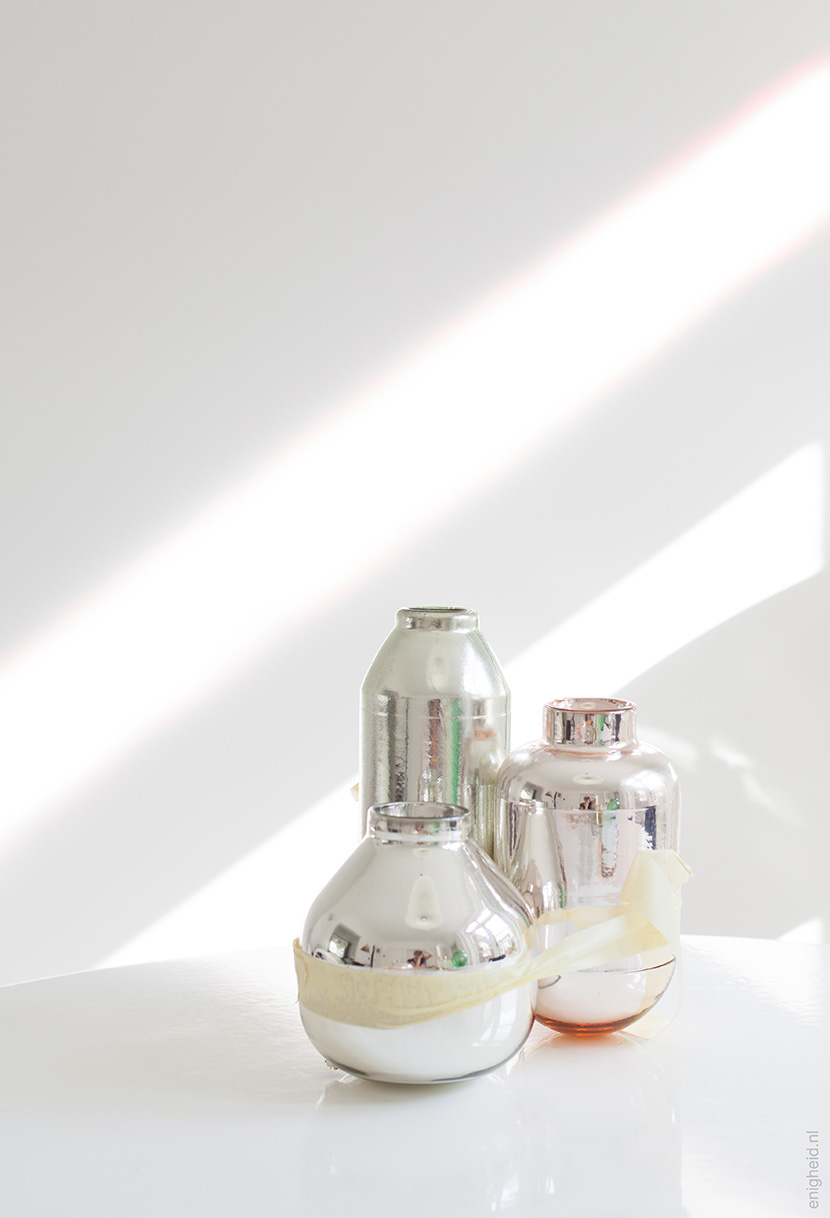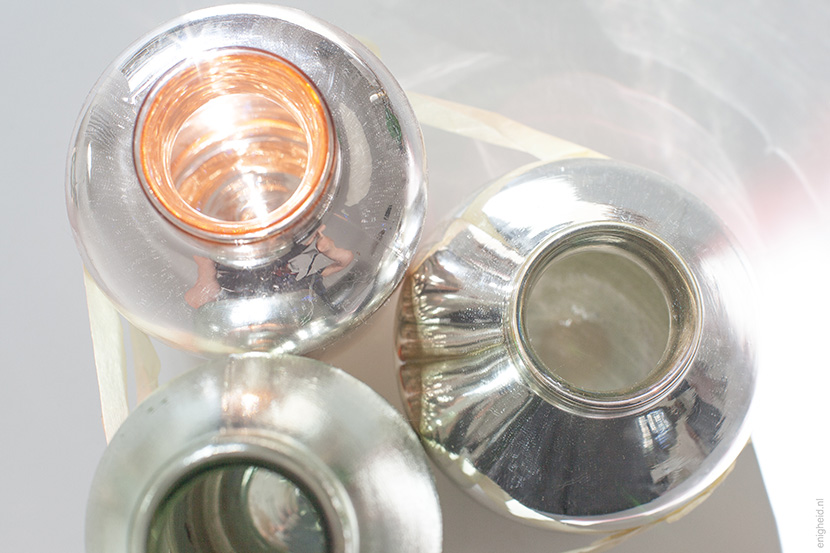 Een paar jaar geleden kocht ik de fantastische Flask Vaas van David Derksen (check zijn site, hij is een geweldig designer). Toen ik een paar maanden geleden een kapotte thermoskan uit elkaar haalde en het prachtige glaswerk uit de binnenkant in handen had (roze nog wel!) kon ik het niet over mijn hart verkrijgen om hem weg te gooien. Toen ik mijn hoofd brak over hoe ik hem kon gebruiken, bedacht ik me dat drie flessen samen een stabiele constructie zouden vormen. Ik ging op zoek in alle kringlopen in de buurt. Na een paar weken had ik genoeg kannen verzameld en maakte ik de vaas. Verrassend genoeg ging het erg makkelijk en het eindresultaat vond ik verbluffend. Zo maak je hem zelf:
1 Haal de thermoskan uit elkaar.  Meestal kun je hem openen aan de bodem, soms moet je wel wat kracht gebruiken 
2 Al er een glazen puntje aan de onderkant zit, kun je deze eraf breken met een tang. Schuur de scherpe puntjes eraf met een god schuurpapiertje
3 Doe wat kit in het gaatje, zodat er geen vocht tussen het glas kan komen, want daarmee krijg je aanslag
4 Kijk naar de gewenste compositie en vorm: ik gebruikte flessen met rechte zijkanten zodat je meer oppervlak hebt om te lijmen. Ik gebruikte drie verschillende hoogtes omdat je dan makkelijker je bloemen kan schikken
5 Plak de drie flessen stabiel aan elkaar met schilderstape, zorg dat het stevig vast zit,
6 Plak de drie flessen tegen elkaar aan met transparante kit (volgens mij is de meeste kit van de bouwmarkt prima, als hij maar hecht op glas). Ik weet niet of het ook met sterke lijm werkt, maar daar ben je snel genoeg achter. Zorg dat de bodem recht is én zorg dat de flessen recht omhoog staan (niets erger dan een scheve vaas!)
7 Laat een paar dagen drogen, haal dan de schilderstape weg en zorg voor een bos mooie bloemen. De flessen zijn waterdicht, maar hou er wel rekening mee dat schoonmaken een uitdaging is

Dat is alles. Mocht je deze DIY eens maken, laat het me weten! Ik ben erg benieuwd naar deze vaas in andere huizen.