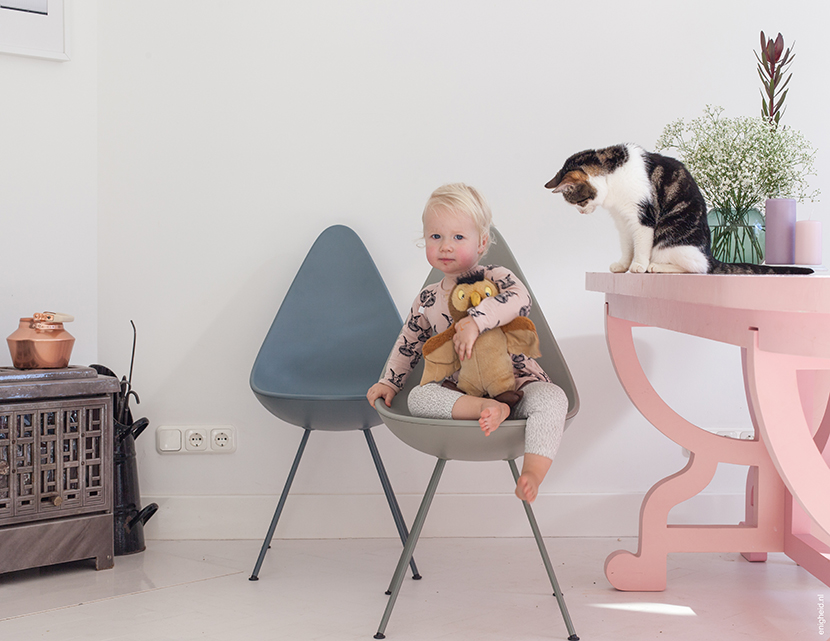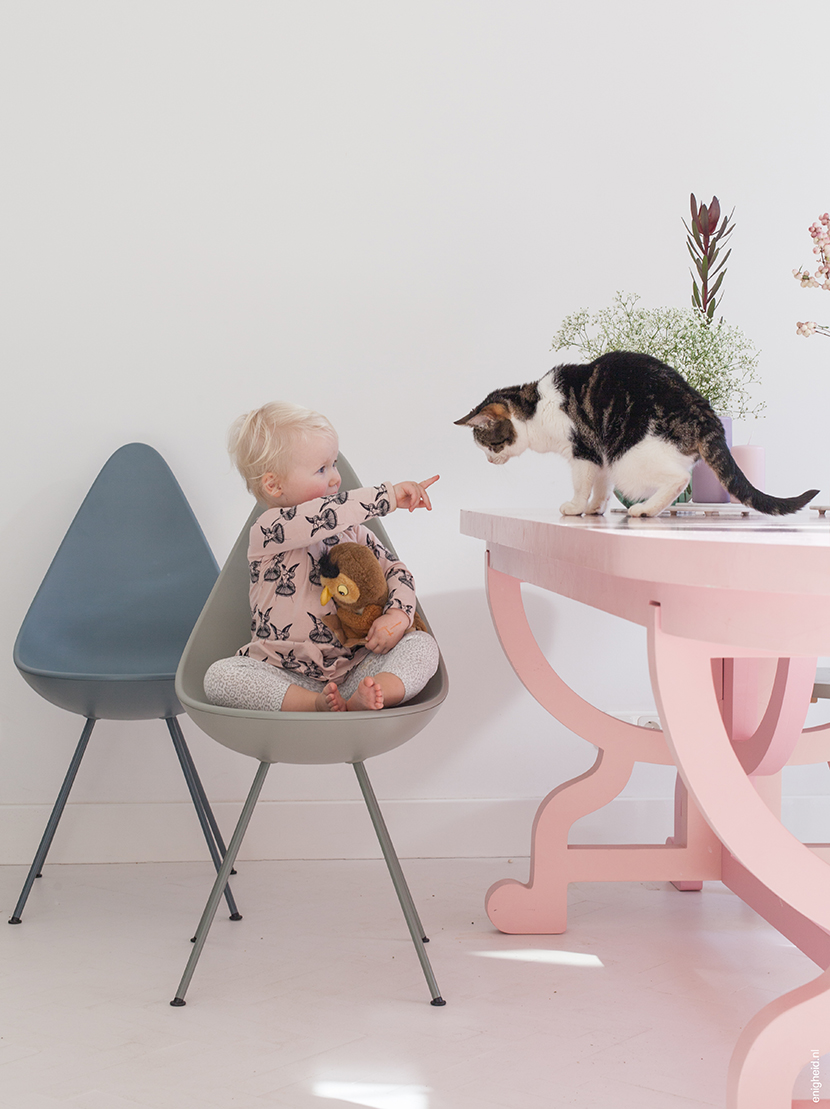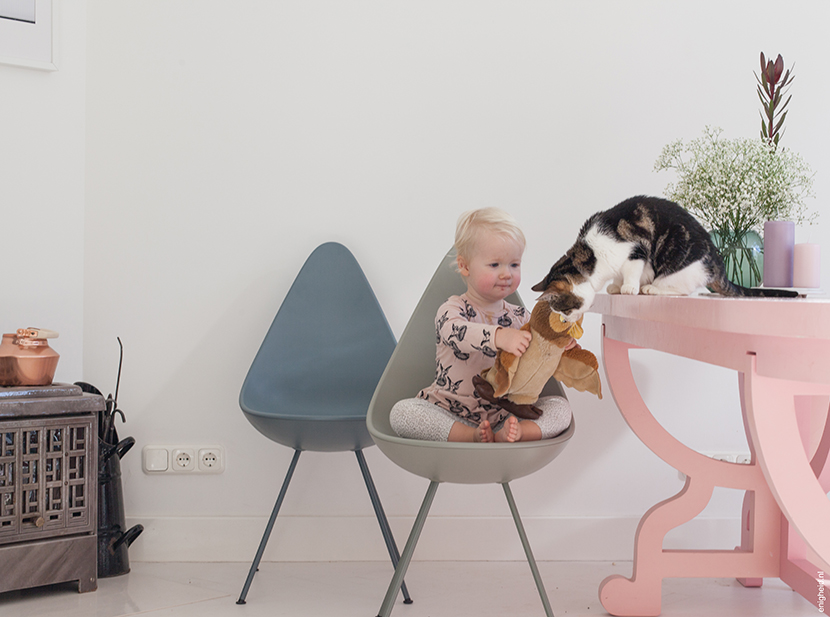 At the end of October I showed you pictures of my fantastic new chairs via Flinders. The blogpost was filled to the brim with photo's already though and I thought these pictures with Maan where too cute not to share with you.
As you know by now, Maan isn't the best sleeper and that is why I use her daytime nap a lot of the time to do some much needed chores or take a nap of my own. When I have some energy to stay awake my favourite past time is, of course, to photograph and blog, hoping the nap is a long one. Sometimes it works out fine and sometimes I have to stop halfway. Just before I was ready taking pictures of the chairs, I heard 'mama, máma, maaaaaaama!' from the baby monitor. I was able to snap some last shots, luckily, so I did have enough to write a post. When she was downstairs I still put her on one of the chairs (the chairs are plastic, so small sticky apple syrup or sharp cat nails are no threat, thankfully) and as a biased mama I think these pictures are just too cute. Aren't Maan and Schurk the perfect couple?
Onesie with bunny print and a skirt by Knast by Krutter | Drop chairs by Fritz Hansen via Flinders | Paper table by Studio Job for Moooi | Vazen: vintage finds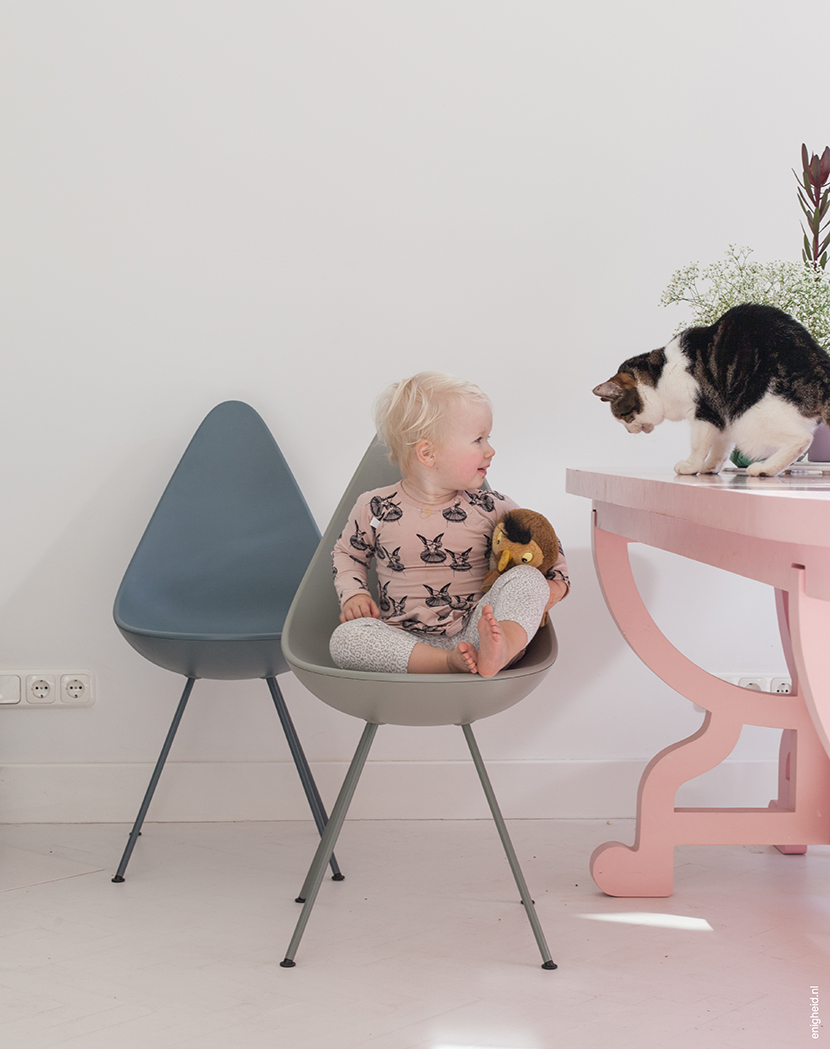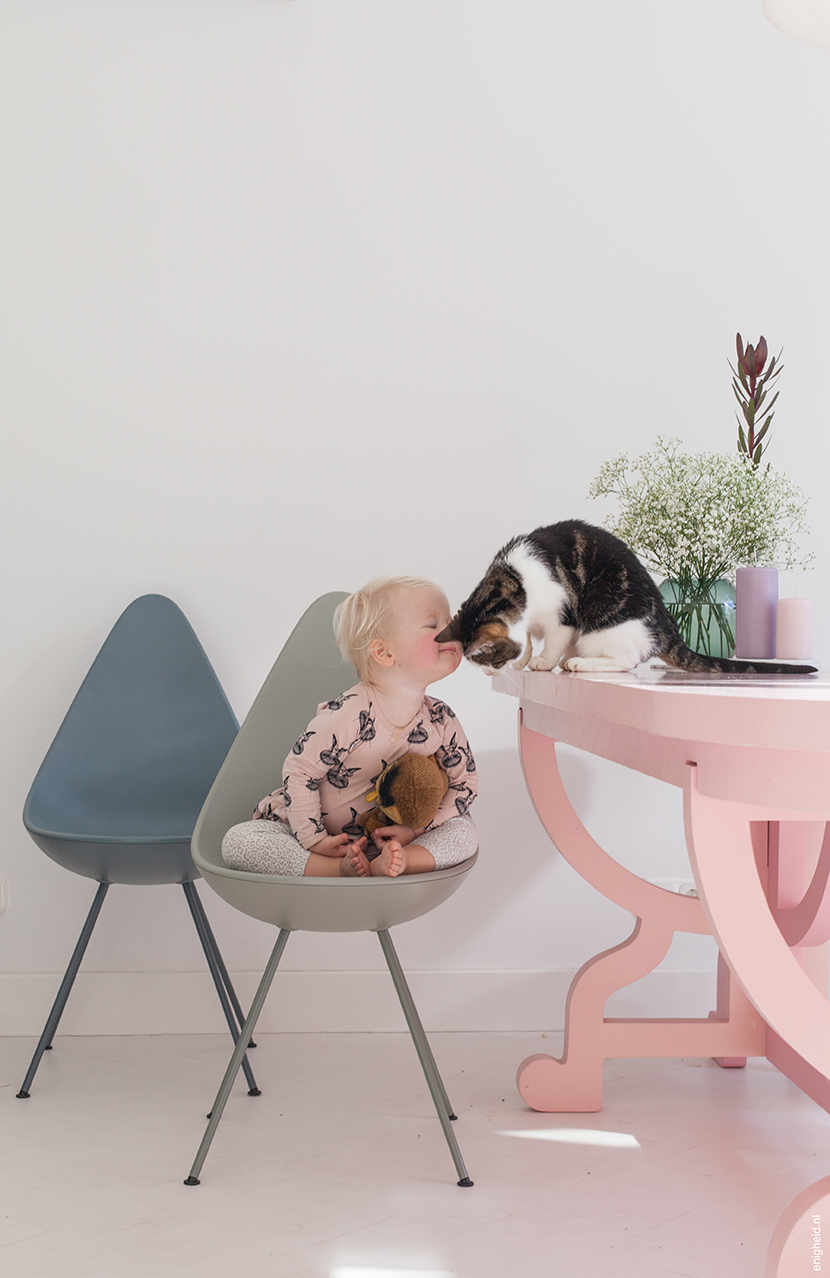 Eind oktober liet ik jullie foto's zien van mijn fantastische nieuwe stoelen via Flinders. De blogpost was echter al vol en deze foto's vond ik te leuk om niet met jullie te delen.
Zoals jullie inmiddels weten slaapt Maan niet al te best en daarom gebruik ik haar middagslaapje om achterstallige huishoudelijke klusjes te doen of om ook een beetje bij te slapen. Als ik de puf heb gebruik ik de tijd het liefst om te fotograferen of bloggen, hopend dat ze lekker lang doortukt. Soms lukt dat en soms moet ik halverwege stoppen. Net voordat ik klaar was met het fotograferen van de stoelen, hoorde ik 'mama, máma, maaaaaaama!' uit de babyfoon komen. Ik kon nog net wat laatste foto's knippen, maar lang kon ik het niet rekken. Toen ze uit bed was heb ik haar toch nog even op een van de stoelen gezet (de kunststof stoelen zijn gelukkig veilig voor plakkerige appelstroop-handjes of scherpe kattennageltjes) en als bevooroordeelde mama vind ik de foto's te schattig. Wat een stel hè, die Maan en Schurk?
Romper met konijnenprint en rokje van Knast by Krutter | Drop chairs van Fritz Hansen via Flinders | Paper table van Studio Job voor Moooi | Vazen: vintage vondsten