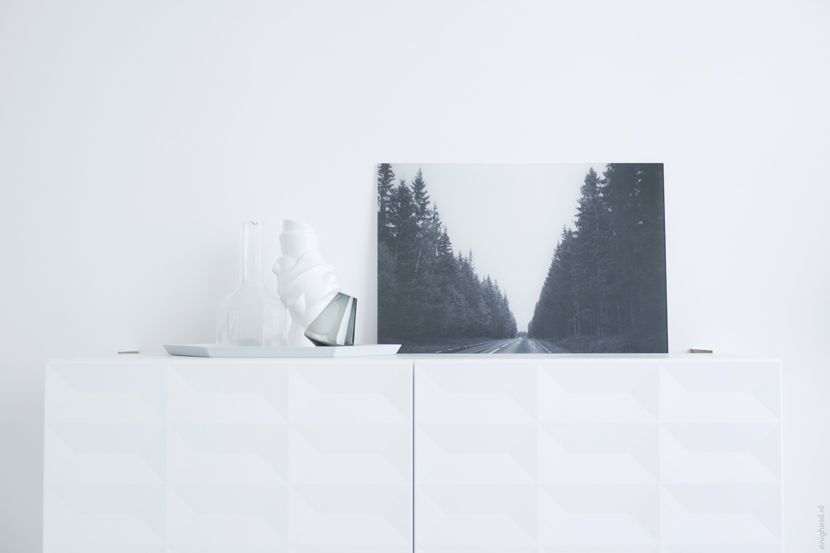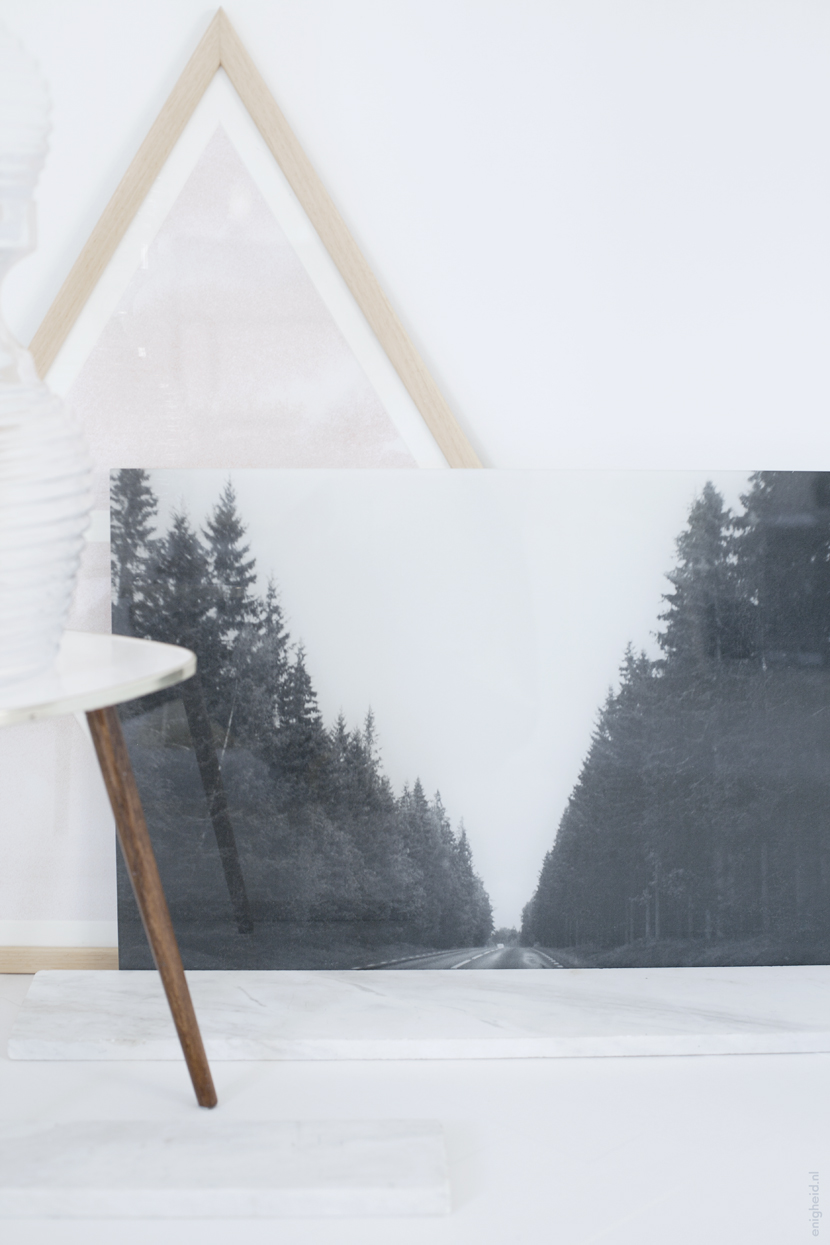 As a blogger who loves taking pictures, I get approached by companies that sell photo-products quite a lot. Most of the time I reject them kindly, but when Webprint asked me for a collaboration, I was interested because 1| they promised me I could choose what I wanted from their range of products and do a totally honest review and 2| I thought it would be cool to have a souvenir of our summer in our new living room.
This picture I took in Sweden, with one of my compact camera's and black and white film. That explains why it's not crispy clear, but I really like the softness on the edges. I choose to have a picture printed on perspex, because I wanted to see if it was as glossy and translucent as I had in mind. And yes, I really love the finish. It gives the picture a certain depth and another plus is that it doesn't need to be framed. I was a bit afraid that the analogue picture wouldn't have the right size for a print this size (40 by 60 centimeters), but the tool on the site said the quality was well enough and indeed it turned out fine.
So here's for my brutally honest opinion: I really like this picture in my living room. The quality is very nice, the perspex gives the image something extra and even an analogue pictures looks good at this size. Thank you Webprint, for giving me the opportunity to try this out.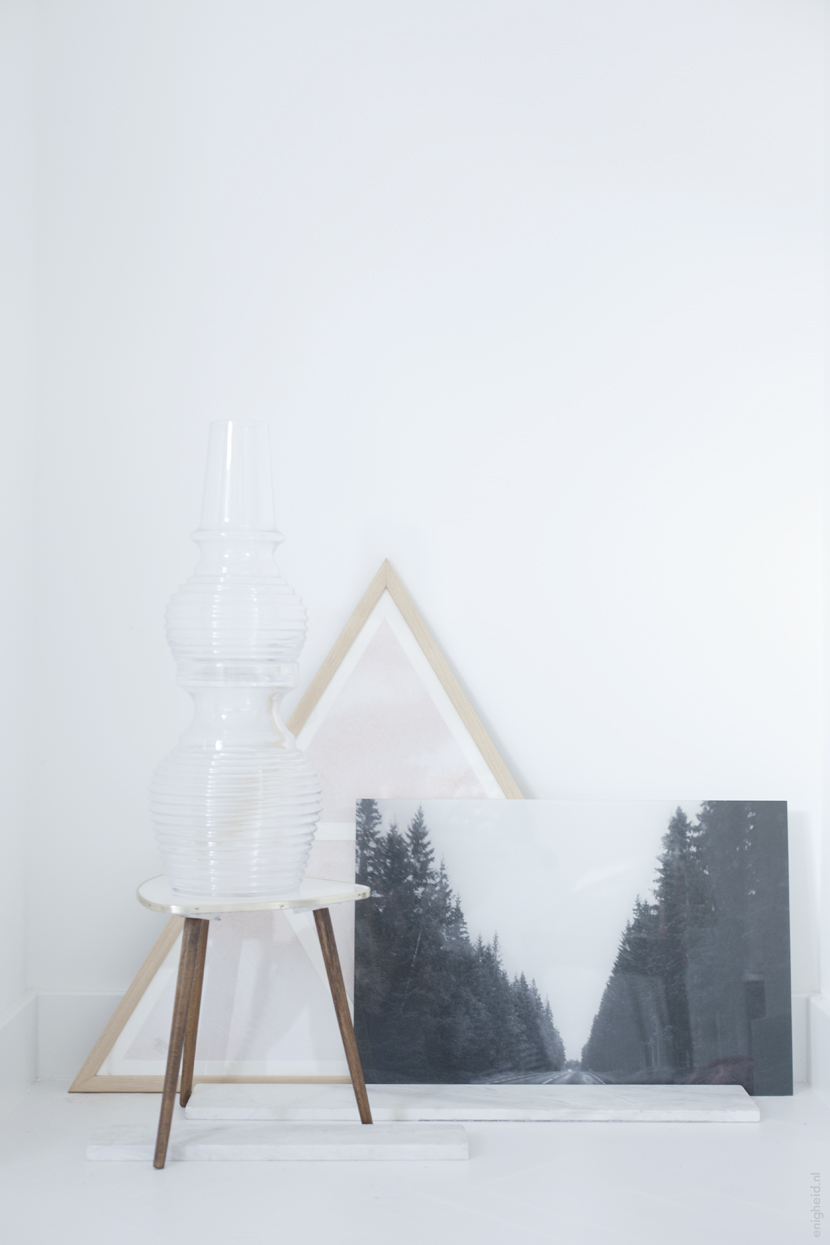 Als blogger die houdt van fotograferen, word ik vaak benaderd door bedrijven die foto-producten verkopen. Meestal ga ik er niet op in, maar toen Webprint me vroeg om met ze samen te werken, was ik wel geïnteresseerd omdat 1| ze me beloofden dat ik het product mocht kiezen dat ik wilde en dat ik helemaal eerlijk mocht zijn in mijn review ervan en 2| het leek me leuk om een souvenir van afgelopen zomer in onze nieuwe woonkamer te hebben.
De foto maakte ik in Zweden, met een van mijn compact camera's en een zwartwit-rolletje. Daarom is de foto ook niet kraakhelder, maar ik houd juist wel van het zachte aan de randen. Ik koos voor een foto op plexiglas, omdat ik benieuwd was of het zo glanzend en doorschijnend zou zijn als ik in mijn hoofd had. En ja, ik vind het prachtig geworden. De foto krijgt er diepte door en ik vind het ook een groot voordeel dat hij niet ingekaderd hoeft te worden door een lijst. Ik was wat bang dat een analoge foto kwalitatief niet voldoende zou zijn voor een print van deze grootte (40 bij 60 centimeter), maar de tool op de site gaf aan dat de kwaliteit voldoende was en het ziet er inderdaad prima uit.
Dus hier mijn ongezouten mening: ik ben erg blij met deze print in mijn woonkamer. De kwaliteit is mooi, het plexiglas geeft de foto iets extra's en zelfs een analoge foto ziet er mooi uit in deze grootte. Dank Webprint, dat jullie me de mogelijkheid gaven voor deze review.